2G spectrum scam: H R Bharadwaj attacks P Chidambaram for blaming Manmohan Singh
Senior Congress leader H R Bharadwaj today attacked former Finance Minister P Chidambaram for blaming ex-Prime Minister Manmohan Singh on the 2G spectrum scam issue and instead accused him of being "solely responsible".
A former Union Minister and a Governor, he disputed Chidambaram's contentions on the 2G issue and said that if he had defended the treasury well as Finance Minister, then this scam would not have happened.
"I don't think what Chidambaram is saying is the correct thing. It's absolutely to the contrary. The Prime Minister had indicated to all the ministers that the 2G matter should be dealt with transparency.
"He (Manmohan) has done meticulous service to the country. Chidambaram is no match for him. His honesty, integrity is internationally recognised," Bharadwaj said.
Bharadwaj, who had been at one time a Union Minister along with Chidambaram, even claimed that the latter was never a Congress man.
"Tell me when was he (a Congressman)? He has always been changing parties. To make him the Finance Minister, every person used to bring him to the forefront," he said.
"Chidambaram used to browbeat everyone on the basis of his language and education. I have seen his performance everywhere. In 2G, he is solely responsible," he claimed.
Replying to a question whether Priyanka Gandhi should be brought forward to revive the party, he said "I request the Congress leadership to bring her forward immediately."
Earlier, Chidambaram had said the UPA government could have handled the 2G spectrum allocation case better.
"The CAG report on 2G and other issues," Chidambaram had said, "clearly …hurt the Congress party. I think 2G could have been handled differently in the sense that the Prime Minister could have put his foot down and said I am sorry, I will not let you go forward with the first-come-first-serve (FCFS) route.
"Or after licences had been granted and issue was brought up, he could have said cancel licences without waiting for the judgement. It hurt us. My personal view was once this came out as a scandal of bandwidth allotment, the government should have cancelled all the licences without waiting for the Supreme Court (judgement)," Chidambaram had said.
Manmohan Singh should have put foot down, cancelled 2G licences, says Chidambaram
Former finance minister P Chidambaram on Friday said he had suggested to the UPA government to cancel 2G licences once it came out as a scandal. Though his suggestion was considered, the government decided to let the court take a call, perhaps due to apprehension of litigation by numerous licencees, he added.
Participating in a discussion with Finance Minister Arun Jaitley at the launch of Consulting Editor, The India Today Group, Rajdeep Sardesai's book "2014: The Election That Changed India", Chidambaram said the then prime minister Manmohan Singh "should have put his foot down" without waiting for the Supreme Court order.
"The issue of 2G licence could have been handled differently. The prime minister could have put his foot down and said I would not let you follow the first-come-first-serve policy… Or he could have cancelled the licences without waiting for the court order… Once it came out as a scandal, the government should have cancelled it… I suggested so and it was considered. But the decision was to let the court take a decision," Chidambaram said. "If we had cancelled, we might have contained the damage. It was a pretty simple decision, rather than suffering a judgment," he said.
According to Chidambaram, the Congress-led UPA would not have lost the elections so badly if the government had got the "economy right". Chidambaram, who had moved from the Finance Ministry to the Home Ministry in the aftermath of the 2008 Mumbai terror attack, said the measures including the stimulus packages during the global crisis led to the government losing control over the domestic economy.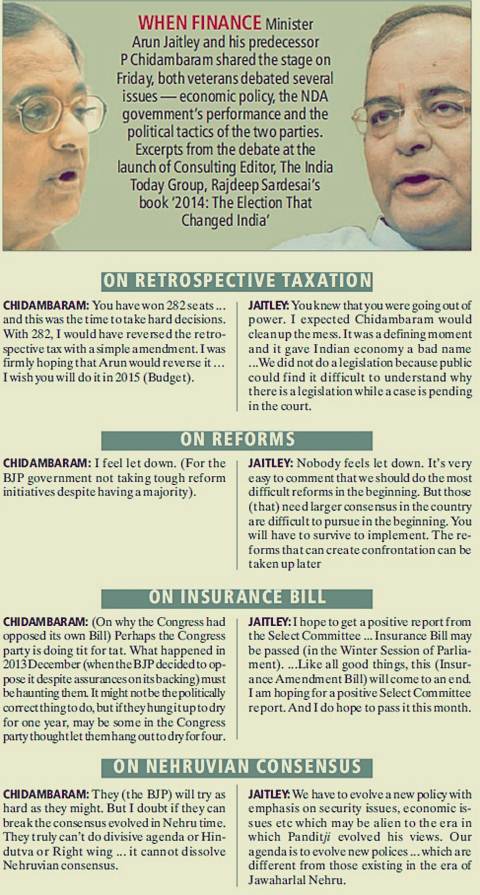 In the conversation moderated by Karan Thapar, Chidambaram said it was not just the 2G scam that led to the fall of the UPA government. "This election (2014) was an uphill task for us. Ten years in office and the anti-incumbency is a millstone around your neck," he said. He added that the BJP would still have been the largest party.
Chidambaram also clarified that the controversial budget proposal on retrospective taxation could not have been taken without consultation with the PM. "It was a budget proposal… It was discussed between the PM and the finance minister only… I think the matter was discussed and what all I know about, I will say in the the book I am writing," he said. Pranab Mukherjee, President of India, was the finance minister then.
- See more at: http://indianexpress.com/article/india/india-others/manmohan-should-have-put-foot-down-cancelled-2g-licences-chidambaram/#sthash.mFn1n3hI.dpuf
Chidambaram's statement puts Manmohan in a fix-The Hindu
The Congress on Saturday chose not to respond to the former Finance Minister P. Chidambaram's statement that the former Prime Minister Manmohan Singh should have cancelled 2G licences and spectrum allocation after allegations surfaced that there were wrongdoings. But Mr. Chidambaram's statement has put Dr. Singh in a tight spot.
While the official spokespersons and media department head Ajay Makken refused to comment on the issue, Congress general secretary Digvijaya Singh hinted that Dr. Singh must explain. "I was not in the cabinet. The only person who can respond is Dr. Manmohan Singh," said Mr Singh.
Mr. Chidambaram said at a book launch on Friday that his suggestion to cancel the licences and spectrum was overlooked. "The Prime Minister should have put his foot down. But the argument against cancellation was that there would be litigations. That would have been better than the adverse the SC judgment that came later," the former FM said. Mr. Chidambaram said he had not expressed this opinion in Cabinet. "There are various other ways of discussing these things, and I was of the opinion that the government must act before the SC did."
After Sanjaya Baru, former coal secretary P C Parakh embarrasses Manmohan Singh-14th April 2014 -Deccan Chronicle
At a time when his former media advisor's book has created political ripples, former Coal secretary P C Parakh has embarrassed Prime Minister Manmohan Singh by saying that he was heading a government in which he had "little" political authority.
In his book "Crusader or Conspirator? Coalgate and other Truths" to be released tomorrow, Parakh, who retired as Coal secretary in December 2005, recalled an incident when he had gone to meet the Prime Minister on a farewell call after submitting his resignation to the then Cabinet Secretary B K Chaturvedi.
The 68-year-old author said in his book that he had submitted his resignation after BJP MP Dharmendra Pradhan had insulted him during a Parliamentary Standing Committee meeting and no response coming from the government.
"On August 17, 2005 I met the Prime Minister for a farewell call. I wanted to express my concern at the insult and humiliation that members of Parliament heap on civil servants and senior executives of public service undertakings," he said in his book published by Manas publications.
Parakh, against whom the CBI has registered a case in coal block allocation, said the Prime Minister expressed anguish and stated that "he (Singh) faced similar problems everyday. But it would not be in the national interest if he was to offer his resignation on every such issue."
"I do not know if the country would have got a better Prime Minister if Dr Manmohan Singh had resigned, instead of facing the humiliation of his own ministers not implementing or reversing his decision.
"By continuing to head a government in which he had little political authority, his image has been seriously dented by 2G scam and coalgate although he has had a spotless record of personal integrity," the author observed.
Parakh while referring to the conversation with Singh said it had become clear that there was little chance of lasting reform in the coal sector with the limitations within which the Prime Minister functioned.
Excerpts from Sanjay Baru's book 'The Accidental Prime Minister: The Making and Unmaking of Manmohan Singh'-India Today
The power and importance of the principal secretary to the PM has always been dependent on the latter's political clout, apart from the officer's own standing within the civil service. As the bureaucratic link between the PM and senior ministers and secretaries to government, the principal secretary commands authority and influences policy. Most principal secretaries have been extremely capable men, well regarded by their peers and respected by their subordinates, like P.N. Haksar in Indira Gandhi's PMO, P.C. Alexander in Rajiv's, A.N. Varma in P.V. Narasimha Rao's, Satish Chandran in Gowda's, N.N. Vohra in Gujral's and Brajesh Mishra in Vajpayee's. However, every now and then, a nondescript official of limited talent has also adorned that job.
Since Manmohan Singh's PMO also included a special adviser, a novelty created to accommodate M.K. Narayanan, part of the NSA's turf, namely the area of internal security, was hived off to him.
J.N. 'Mani' Dixit was, without doubt, the dominant personality among the three (Narayanan, T.K.A. Nair and Dixit). His stature ensured that T.K.A. Nair was not quite the 'principal' secretary that many of his predecessors had been. Of course, Nair's immediate predecessor, the larger-than-life Brajesh Mishra, was more than just a principal secretary. I once jokingly remarked to Dr Singh that in Vajpayee's time the principal secretary functioned as if he were the PM, while in his case it was being said that the PM functioned like a principal secretary. This was a comment on Dr Singh's attention to detail, his involvement in the nitty-gritty of administration, his chairing of long and tedious meetings with officials, which Vajpayee rarely did. He ignored the remark, knowing well that it was also a taunt, drawing attention to the fact that Sonia was the political boss.
Nair was not Dr Singh's first choice for the all-important post of principal secretary. He had hoped to induct Vohra, who had given me news of my job. Not only was he a fellow refugee from west Punjab, now Pakistan, but both had taught in Punjab University and Vohra also went to Oxford, though some years after Dr Singh. Vohra even cancelled a scheduled visit to London to be able to join the PMO.
Sonia Gandhi
had another retired IAS officer, a Tamilian whose name I am not at liberty to disclose, in mind for the job. He had worked with Rajiv Gandhi and was regarded as a capable and honest official.
However, he declined Sonia's invitation to rejoin government on a matter of principle-he had promised his father that he would never seek a government job after retirement.
With these two distinguished officers ruled out, Dr Singh turned to Nair, a retired IAS officer who had worked briefly as secretary to the PM in Gujral's PMO and had also served as Punjab's chief secretary, the top bureaucrat in the state. Nair's name was strongly backed by a friend of Dr Singh's family, Rashpal Malhotra, chairman of the Chandigarh-based Centre for Research on Rural and Industrial Development (CRRID).
Dr Singh himself was the chairman of the CRRID and Nair a member of its governing board. Apart from his stint in the Gujral PMO, Nair had neither held the rank of secretary in any of the powerful ministries on Raisina Hill-home, finance and defence-nor in any key economic ministry. He had only done so in the less powerful ministries of rural development and environment and forests. In short, he was a bureaucratic lightweight.
Always impeccably attired, Nair, small-built and short, lacked the presence of a Brajesh Mishra, whose striking demeanour commanded attention. He rarely gave expression to a clear or bold opinion on file, always signing off with a 'please discuss' and preferring to give oral instructions to junior officials such as joint secretaries and deputy secretaries. They would then be required to put those instructions on file as their own advice. It was classic bureaucratic risk aversion aimed at never getting into any controversy or trouble. Nair depended a great deal on Pulok Chatterjee, a joint secretary who had worked with both Rajiv Gandhi and Sonia, for advice on important policy decisions.
Pulok, like Nair, suffered from the handicap that his own service had never regarded him as one of its bright sparks. A serving IAS officer, he had never worked in any important ministry. He was inducted into Rajiv's PMO as a deputy secretary after having served as a district official in Amethi, his constituency in Uttar Pradesh, where he had caught Rajiv's eye. After Rajiv's death, he chose to work for the Rajiv Gandhi Foundation where he did some worthwhile social development work. But this meant that he was not just outside government but completely identified with the Gandhi family. When Pulok returned to government, it was to work on the personal staff of Sonia Gandhi when she was leader of the Opposition in the Lok Sabha.
Pulok, who was inducted into the Manmohan Singh PMO at the behest of Sonia Gandhi, had regular, almost daily, meetings with Sonia at which he was said to brief her on the key policy issues of the day and seek her instructions on important files to be cleared by the PM. Indeed, Pulok was the single most important point of regular contact between the PM and Sonia. He was also the PMO's main point of contact with the National Advisory Council (NAC), a high-profile advisory body chaired by Sonia Gandhi...
Even with its combined strength, I felt that the Nair-Pulok duo was not a patch on the magisterial Brajesh Mishra who ran Vajpayee's PMO with great aplomb. Even though he was a diplomat by training, Mishra, the son of a former Congress chief minister of Madhya Pradesh, had politics in his genes and knew exactly what stratagems to adopt to strengthen the authority of the PM in a coalition government. His other great qualification, one that both Nair and Pulok lacked, was that he was a risk-taker. On critical occasions, Mishra was willing to push the envelope and take things forward on behalf of the PM. He established that reputation by taking the decision, along with Vajpayee, to conduct nuclear tests in May 1998 and declare India a nuclear weapons state. Mishra's stature consolidated and expanded Vajpayee's clout within the government.
***
'National Security Adviser became the effective boss of IB and R&AW'
PM declined to take daily briefings from intelligence chiefs
It was clear to me that Dr Singh shared a bond with him (Mani Dixit) that was never there between him and Narayanan. It seemed plausible that the latter had been inducted as the third leg of PMO leadership as a concession to Sonia. MK, or Mike, as his contemporaries called him, was the intelligence czar who had headed the Intelligence Bureau (IB), India's internal intelligence agency, under both Rajiv Gandhi and Narasimha Rao. He earned his spurs by playing a role in the unseating of the first-ever democratically elected communist government in the world, E.M.S. Namboodiripad's ministry in Kerala, way back in 1957.
He was director, IB, when Rajiv was assassinated. Narayanan's favourite line was, 'I have a file on you.' He used it, humourously, with ministers, officials, journalists and others he met, leaving them, however, with the uneasy feeling that he wasn't really joking. Indeed, Narayanan himself gave currency to the tales that circulated about his proclivity to snoop on everyone. He seemed to derive great pleasure in letting me know that he kept a tab on the credit-card spending of influential editors. On long flights in the PM's aircraft, he would regale us with stories about how various prime ministers had summoned him for information on their colleagues.
If those stories were true, Dr Singh was clearly the exception to that rule. He not only resisted the temptation to spy on his colleagues, but gave up even the opportunity to be offered such information by declining to take a daily briefing from the intelligence chiefs. He was the first prime minister not to do so. The chiefs of both the IB and the Research and Analysis Wing (R&AW) were told to report to the NSA instead. I didn't think the intelligence chiefs would deliver their best if they reported to an intermediary instead of the prime minister himself, and repeatedly implored him to take a direct daily briefing from them. Every now and then he would, but the NSA became their effective boss in the UPA PMO.
M.Karunanidhi
It was Dr Singh who had negotiated the DMK's entry into the UPAwith M. Karunanidhi in January 2004 and had gone to great lengths to be deferential to him.As prime minister,Dr Singh always received Karunanidhi at the portico of 7 RCR, and not just at the door of his room, as was the norm with most other visitors.
Whenever Karunanidhi sent an emissary with a message, Dr Singh would set aside all other work and meet the DMK emissary. This made the DMK feel they had a special equation with Dr Singh. After all, the DMK's friendship with Sonia was a relatively new one. In 1996, she had rejected P.V. Narasimha Rao's proposal that the Congress ally with the DMK rather than the All India Anna Dravida Munnetra Kazhagam (AIADMK); the former were known to be sympathisers of the LTTE, her husband's killers.
Narayanan, when he succeeded Dixit as NSA, used this power to its limits, and not without controversy-he was accused by R&AW officers of being partial to the IB. But his control over the system also derived from his professional competence and the respect he commanded even from junior officers for his non-hierarchical style of functioning. He would deal directly with them, not bothering about rank and protocol and focusing on getting the job done. My nickname for him, while talking to friends, was 'Ed', for J. Edgar Hoover, the powerful boss of the FBI of whom even US presidents were wary. Dr Singh too was wary of Narayanan's reputation and would, on occasion, warn me to be cautious while carrying out sensitive assignments for him that he did not want anyone to know about.
***
'Active morality for himself, but passive morality for others'Manmohan turned a blind eye to corruption by his colleagues
Dr Singh's general attitude towards corruption in public life, which he adopted through his career in government, seemed to me to be that he would himself maintain the highest standards of probity in public life, but would not impose this on others. In other words, he was himself incorruptible, and also ensured that no one in his immediate family ever did anything wrong, but he did not feel answerable for the misdemeanours of his colleagues and subordinates. In this instance, he felt even less because he was not the political authority that had appointed them to these ministerial positions. In practice, this meant that he turned a blind eye to the misdeeds of his ministers. He expected the Congress party leadership to deal with the black sheep in his government, just as he expected the allies to deal with their black sheep. While his conscience was always clear with respect to his own conduct, he believed everyone had to deal with their own conscience.
Jairam Ramesh
In 2005, when he asked me whether I thought Jairam Ramesh should be inducted into government, I replied that Jairam ought to be more demonstrative of his loyalty to the PM if he wanted a berth in the ministry. I was taken aback when, a few days later, Montek Singh Ahluwalia took me aside at a Christmas party at journalist T.N. Ninan's house and asked me why I was opposing Jairam's induction... I am not aware of what transpired after that, but in the following month,January 2006, Jairam did get inducted as a minister of state in the commerce ministry. I was not surprised to learn that Jairam later called on Sonia's friend Suman Dubey and thanked him for the job.
Politics is about power and patronage, and ministerial positions are won not just on the basis of competence but also in recognition of a politician's clout or loyalty to the leader. For Congress MPs, the leader to please was always Sonia.That Jairam's loyalty was only with Sonia became clearer within weeks of his becoming minister when he chose to embarrass the PM by leaking a letter that Sonia had written to Dr Singh cautioning him against pursuing an initiative he valued a lot-the free trade agreement with member countries of the ASEAN.
When a colleague got caught, as the DMK minister A. Raja finally was, he let the law take its course. Raja was arrested, placed in judicial custody at Delhi's Tihar Jail for fifteen months and is currently being prosecuted for his role in the 2G scam. Dr Singh's approach was a combination of active morality for himself and passive morality with respect to others. In UPA-1 public opinion did not turn against the PM for this moral ambivalence on his part, because the issue had not been prised out into the open. The media focus in the first term was very much on his policy initiatives.
But in UPA-2 when corruption scandals tumbled out, his public image and standing took a huge hit from which he was unable to recover because there was no parallel policy narrative in play that could have salvaged his reputation. In other words, there were no positive acts of commission that captured the public mind enough to compensate for the negative acts of omission for which he was being chastised.
***
'I do not want you to project my image'
PM let Rahul take credit for nREGA and UPA winning a second term
When the idea of a rural employment guarantee scheme travelled to the PMO from the NAC and the rural development ministry, it was received enthusiastically by Dr Singh, who was familiar with Maharashtra's early initiatives in this regard. As the deputy chairman of the Planning Commission in the 1980s, Dr Singh had studied this scheme and had been impressed by it. Hence, he was in favour of implementing this programme at the national level and the Mahatma Gandhi National Rural Employment Guarantee Act (MGNREGA) was nothing more than a variant of MEGS (Maharashtra Employment Guarantee Scheme).
http://indiatoday.intoday.in/story/excerpts-from-sanjay-baru-book-the-accidental-prime-minister-the-making-and-unmaking-of-manmohan-singh/1/355292.html